Feb 23, 11:24 by Ivonne Dippmann
Ivonne Dippmann WV 2022 001 – 006
"Tau A" redirects here. For the τ\t statistic, see tau-a.
Right ascension 5h 34m 32s | Declination +22° 0′ 52″
Crab Nebula is a venturous world that I created based on an upcoming music album by the Israeli singer, songwriter and composer Daniel Dor while spending winter with my family in Chemnitz. High-spirited and adventuresome, I threw myself into a magical saga of boiled crushed herbs and eminent forefathers for two months.
Scientifically speaking; Crab Nebula is a supernova remnant and pulsar wind nebula in the constellation of Taurus. The common name comes from William Parsons, 3rd Earl of Rosse, who observed the object in 1842 using a 36-inch (91 cm) telescope and produced a drawing that looked somewhat like a crab. The nebula was discovered by English astronomer John Bevis in 1731, and it corresponds with a bright supernova recorded by Chinese astronomers in 1054. The nebula was the first astronomical object identified that corresponds with a historical supernova explosion.


WV 2022 – 001
Crab Nebula
Series of 6 paintings
Acrylic, spray paint on copper paper
38 × 38 cm
Berlin 2022
7,500 Euro

At a count of five,
I jumped off my horse and stared into a black crater, which consists, in large measures of material "not his own". I could only guess its life, strivings and sorrows, since moon took over a month already. How I missed sun these days! In the search of "being" and "true love" I jumped; – against law, against nature, against origin, studies and needs – into an open wound of only emptiness. The greatest length of time I submerged into shades of gray. I thought of school and asking my teacher for directions to inner freedom. With enjoyment, I have been offered a mango fruit instead.
They say a persons being consists of two parts: essence and personality. Both, puzzled and magnetized between "yes" and "no", were now obtained by fusion qualities in a galactic Super Nova. On the evolutionary ladder, always thinking center, I became witness of the minutest details, that will later be documented as Crab Nebula, Tauri M1. I folded my hands and whispered silently "I want to remember myself.", knowing we must die all at once and forever. Yet, God put me to sleep in the forest of disillusionment to receive the truth and helped me realize that I am a fool.
I was certain that real and complete knowledge had existed in ancient times. I fell out of a ceramic vessel and tried to catch a fish. Only then I knew, I must strive for freedom.

WV 2022 – 002
Phoenix on the rock
Series of 6 paintings
Acrylic, spray paint on copper paper
38 × 38 cm
Berlin 2022
7,500 Euro

Before beginning this history, I am a pilot who is trying to make his way to the Promise Land.
For a fortnight I have been following a humble man who sails along on a wonderful nutshell in the sea. I went there secretly for three days. With both hands he holds on to the reflection of Taurus in the sea. Like a sculpture, he practices the art of contemplation to be a world's delight. The sun played its melodies around his shoulders while shadows of the mountains passed his gaze. Full of passionate intensity, the darkness dropped again. Swarms of fish fluttered in circles around him and I felt the need to reconcile myself with all aspects of the inevitable condition of being human.
WV 2022 – 003
Valley of lights
Series of 6 paintings
Acrylic, spray paint on copper paper
38 × 38 cm
Berlin 2022
7,500 Euro

I walked in the rain until I was soaked. I felt so overwhelmed by water, it is so incredible and wonderful.
WV 2022 – 004
The world will last
Series of 6 paintings
Acrylic, spray paint on copper paper
38 × 38 cm
Berlin 2022
7,500 Euro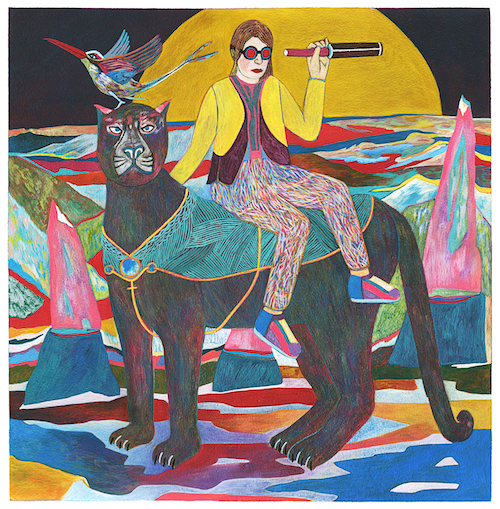 However, I understood that running with panthers induces great creative force. I was destined to live.
During night, a brilliant flash of benevolent energy entered my home. Daffodils and daisies, placed upon the main entrance, filled me with love in the field of dreams. I was a man of logic, and like all mythological figures I lived in Alexandria this time. I had a tendency to wander and took the challenge to climb on a large rock. There was a naval orange tree, broken in spirit, soul and body. I would find the edge of the water and inhaled the fragrance of a perfume that reminded me of autumn and beauty. Someone had appeared in the forest! Surrounded by sounds of snakes and animals, I heard a soft, gentle voice.
I looked around for many hundred years, gazing ahead and above, internalizing patience and developing sincere curiosity. The following year, growing naturally like a tree, a beautiful women rose above ground to bring into live expression. Her outward appearances were humble and kind. She grew with deep, unfathomable gratitude and once, like an angel spoke to Jospeh, she turned around to me and said, "If you go that way you are going, you shall never come to the goal." Tormenting questions bombarded my mind, but these questions would have had no answers on this side of heaven.

WV 2022 – 005
Voice in my head
Series of 6 paintings
Acrylic, spray paint on copper paper
38 × 38 cm
Berlin 2022
7,500 Euro

WV 2022 – 006
Protected
Series of 6 paintings
Acrylic, spray paint on copper paper
38 × 38 cm
Berlin 2022
7,500 Euro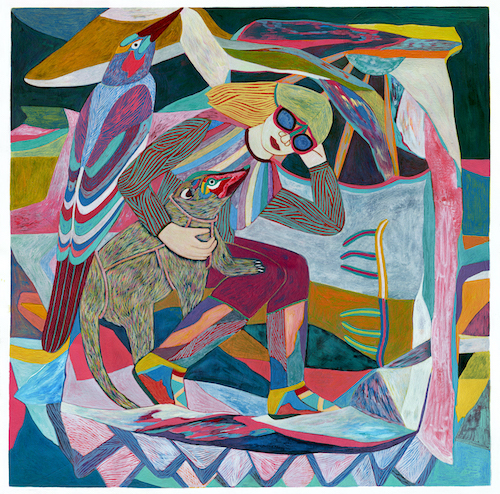 Purchases within Germany can go directly to:
(indicate painting and contact details)
Ivonne Dippmann
Commerzbank
DE31870400000111566600
Texts and images © Ivonne Dippmann

09/21 Textiles, FD coats & jackets 04/22 Textiles, Heimatgeschichte