Feb 9, 11:04 by Ivonne Dippmann
MEHR IST MEHR / MORE IS MORE
IVONNE DIPPMANN
18.02. – 20.03.2016
Vernissage: Am Donnerstag, dem 18. Februar 2016, um 19.00 Uhr
Der Abend wird eingeleitet durch Dr. Sven Sappelt
CLB BERLIN – AUFBAU HAUS
PRINZENSTRASSE 84.2
10969 BERLIN
Öffnungszeiten / Opening hours
Di-Sa 14.00 bis 18.00 Uhr i.d.R.
oder nach persönlicher Absprache
Tue-Sat 2 to 6 p.m. in general
or by appointment
www.CLB-BERLIN.de
www.fellows-friends.ghst.de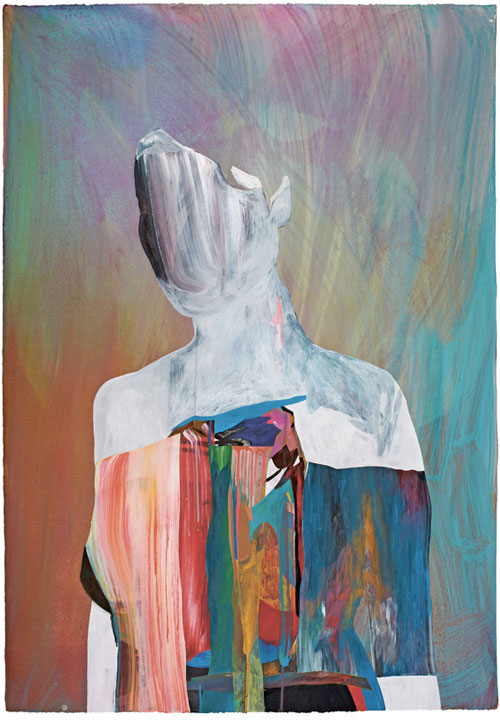 Ivonne Dippmann WV 2016 – 005
SIE WAREN ZU DRITT, EIN MÄDCHEN, EIN KNABE, UND KONNTEN DREISTIMMIG SINGEN. / THERE WERE THREE OF THEM, A GIRL, A BOY, AND THEY COULD SING IN THREE PARTS. Acryl, Tusche, Sprühfarbe, Gouache auf Kupferkarton, 100×80 cm, Ivonne Dippmann, Berlin 2016, private collection Berlin
Die Ausstellung »Mehr ist Mehr« und die Veranstaltungsreihe "in und um und um herum" entstand in Kollaboration mit Studio Ivonne Dippmann, dem Projektraum CLB Berlin und der Unterstützung des Programms fellows & friends der Gemeinnützigen Hertie-Stiftung. Die Veranstaltungsreihe "in und um und um herum" bietet im Februar und März einen umfassenden Kontext für Veranstaltungen und Diskussionen zum Thema "Raum".
Veranstaltungen und Termine: "in und um und um herum"
Text / Broschüre zur Ausstellung: SPEKULATIONEN ÜBER SEHEN UND SEIN von Susanne Prinz, Übersetzung: Michael Turnbull, Februar 2016, Berlin
KONTAKT@CLB-BERLIN.DE
Tel +49 (0)30 695 370 80
Ivonne Dippmann WV 2016 – 008 bis 015
WÄNDE I – VIII / WALLS I – VIII, I In winter the trails are not gritted here. II I liked her, that is the better word. III Leave me alone! I'm amused! IV Flowers, which I do not know. V Until the whiskey etched up the ribbons. VI Remainder world. VII Attention! Roof avalanches! VIII In a complete peace of mind in the midst of ruins.
I Im Winter werden die Wege hier nicht gestreut. II Sie gefiel mir, das ist das bessere Wort. III Lass mich in Ruhe! Ich amüsiere mich! IV Blumen, die ich nicht kenne. V Bis sich der Whisky in die Bänder frass. VI Restposten Welt. VII Achtung! Dachlawinen! VIII In völliger Seelenruhe inmitten von Ruinen.
From a series of 8 works / Aus einer Serie von 8 Arbeiten (I – VIII), Acrylic, ink, spray paint, gouache on canvas / Acryl, Tusche, Sprühfarbe, Gouache auf Leinwand, Each / Je 6×140 x 290 cm & 2×200 x 290 cm, In total / Gesamt 480×290 cm & 760×290 cm, Ivonne Dippmann, Berlin 2016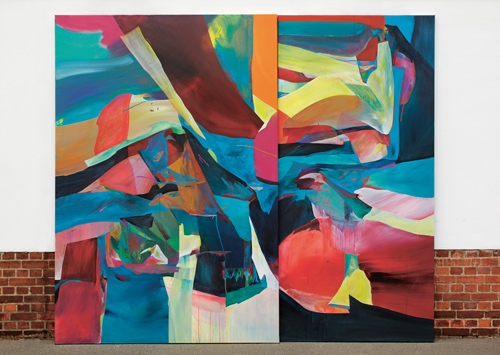 Ivonne Dippmann WV 2016 – 008 bis 009
WÄNDE I – II / WALLS I – II
Ivonne Dippmann WV 2016 – 003 bis 004
REIZLEITUNG I & II – DEINE, MEINE, KEINE! / CONDUCTION I & II – YOURS, MINE, NONE! Knitting wool in various colours from VEB Polar Karl-Marx-Stadt, former GDR, 20 mm flat rolled steel with galvanised screw hooks / Strickwolle in verschiedenen Farben von VEB Polar Karl-Marx-Stadt, ehemals DDR, 20 mm Flachstahl mit verzinkten Schraubhaken, Diptych / Diptychon, Each / Je 105×215 cm, Ivonne Dippmann, Berlin 2016
Danke: Justus Lippke Juliwerk, Jens Piper, Daniela Mueller-Brunke, Flohr & Cie, Robert Strack, Susanne Prinz, Michael Turnbull, Sven Sappelt