Apr 25, 08:10 by Ivonne Dippmann
THE CAT WAS QUIET UNTIL MORNING
IVONNE DIPPMANN
28.04. – 28.05.2017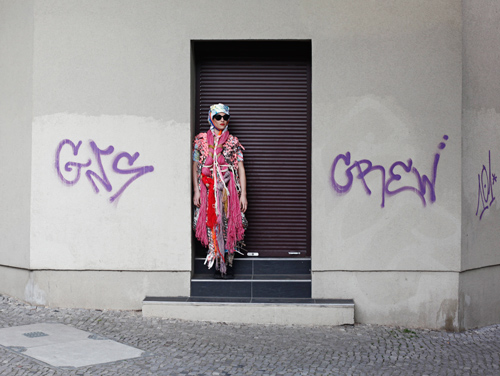 OPENING
Thursday 27 April 19h
Performance by ReimersdahlDippmann
All the world doesn't spin – around you
Vinyl by PAMPIG
Exhibition
28 April – 28 May 17
Rainbow Unicorn
Anklamer Str. 50
10115 Germany
Opening Hours
Mo – Fr 16 – 20h
and by appointment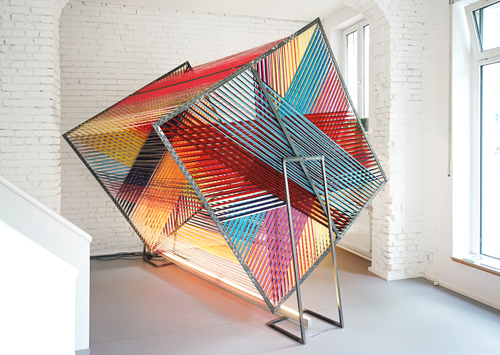 Ivonne Dippmann WV 2017 – 025
"1 Gutschein, lesbar für alle", rotating turbine, knitting wool in various colours from VEB Polar Karl-Marx-Stadt & Kammgarn Zwickau, former GDR, 20 mm flat rolled steel with 500 galvanised screw hooks, 200 × 200 × 350 cm, 1 stepper motor, dimension variable, Berlin 2017
Ivonne Dippmann WV 2017 – 030
"LIEBESLIEDTLVC", pen on paper, 100 × 80cm, Berlin 2017

Ivonne Dippmann WV 2017 – 031
"Ditza", acrylic marker and tape on light box, 90 × 120 cm, Berlin 2017

THE CAT WAS QUIET UNTIL MORNING
by Christiane Wohlrab, Berlin 2017
Ivonne Dippmann's work is multilayered, full of vibrant energy, experiment and technical precision.
Her new installation is a monumental, rotating machine which dominates the space. A diptych is set up by two square frames made of steel, both parts are interconnected by bars. This metal frame is covered with colourful woolen threads, evoking a delicate drawing. Radiating from the rotor planes it unfolds itself into the open space where it forms a compact volume, a light and permeable body which ties together the two counterparts. The construction is slowly rotated by an engine. While moving, the threads overlap, resulting in manifold interferences and op-art patterns. The rotation is controlled by an algorithm which slows it down, stops it, or suddenly changes the direction – the machine seems to have it's own mind.
Trickling metal chips inside the steel bars recall the soft drizzle of rain. It is the sound of an electrostatic field which erratically rotates around its axis. Until the moving shadows at the wall and the gently whispering steel unfurl a story. Like the one of the cat which was quiet until morning and at the crack of dawn is ready for the leap.
Das Werk von Ivonne Dippmann ist vielschichtig, voll vibrierender Energie, Lust am Experiment und handwerklicher Präzision.
Ihre neue Installation ist eine monumentale rotierende Maschine, die mit großer Geste den Raum besetzt. Zwei quadratische Stahlrahmen bilden ein Diptychon, das durch Streben verbunden ist. Über dieses Metallskelett spannen sich farbige Wollfäden wie eine feine Zeichnung. Als Sternformation legt sie sich über die Rotorflächen und öffnet sich von dort in den Raum, wo sie ein kompaktes Volumen bildet, einen leichten und durchlässigen Körper, der die gegenüberliegenden Felder verbindet. Ein Motor lässt die Konstruktion langsam rotieren. In der Bewegung überlagern sich die Fäden, bilden immer neue Interferenzen und Op-Art-Muster. Ein Algorithmus steuert die Drehung, verlangsamt oder stoppt sie, wechselt abrupt die Richtung und verleiht der Maschine etwas Störrisches, Eigensinniges.
Rieselnde Metallspäne im Inneren der Quadratrohre erinnern an das sanfte Rauschen von Regen. Es ist das Knistern eines rotierenden Kraftfeldes, das sich meditativ und unberechenbar um sich selbst dreht. Bis sich in der Bewegung der Schatten auf der Wand und im leisen Flüstern des Stahls eine Geschichte entspinnt. Wie die von der Katze, die still im Dunkel der Nacht lauert und im Morgengrauen zum Sprung ansetzt.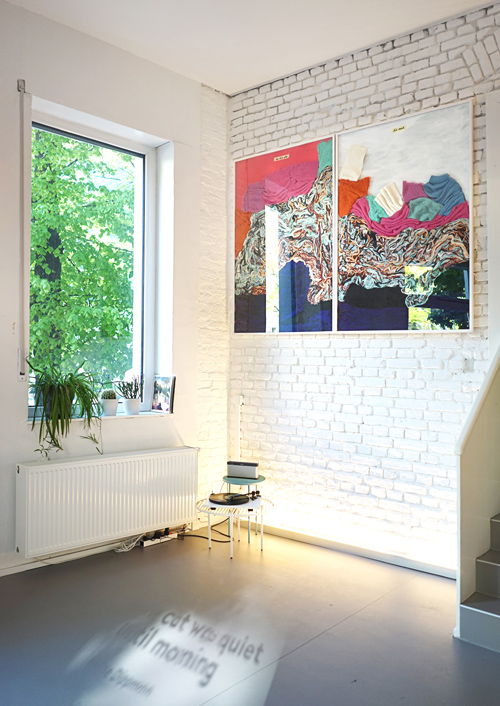 Ivonne Dippmann WV 2017 – 026 bis 027
"dubistallesfürmich" (engl.: youareeverythingtome), acrylic, ink, spray paint, gouache, wool on paper, diptych, each 153 × 100 cm, total 153 × 200 cm, Berlin 2017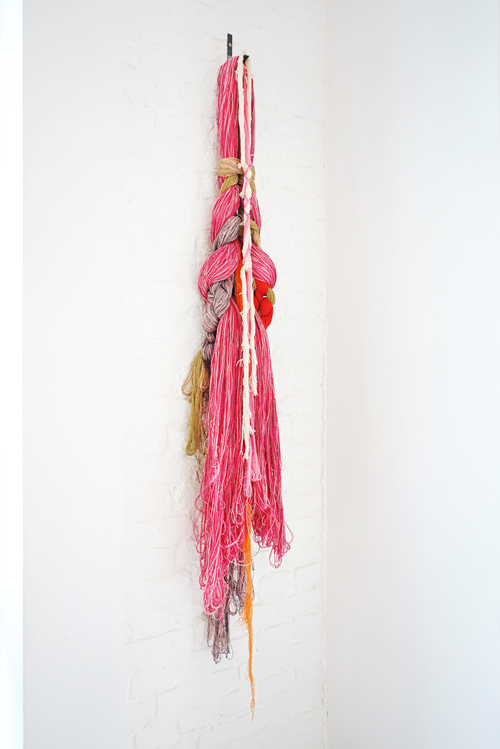 Ivonne Dippmann WV 2017 – 32
"All the world doesn't spin – around you", wool in different colors and qualities, series of 10, each 20 × 160 cm, Berlin 2017
Ivonne Dippmann WV 2017 – 028 bis 029
"dubistallesfürmich" (engl.: youareeverythingtome), Acryl, Tusche, Sprühfarbe, Gouache, Wolle auf Papier, Diptychon, each 153 × 100 cm, total 153 × 200 cm, Berlin 2017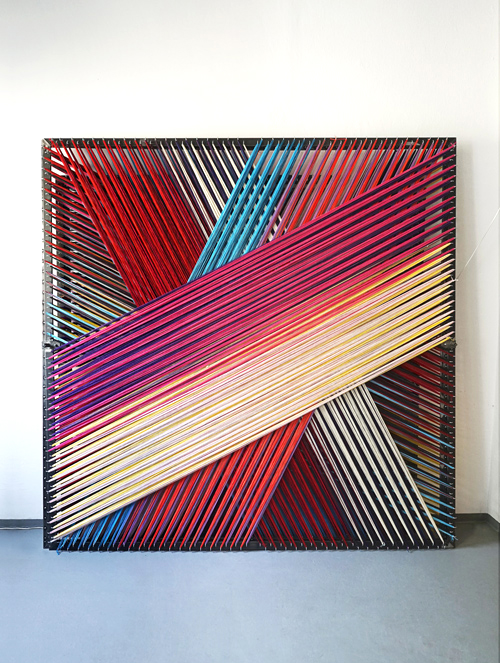 Studio, turbine element 1, work in progress, 200 × 200 cm, dimensions variable


© Fotografie: Studio Ivonne Dippmann & Peter Lorenz
Thanks: Justus Lippke & Jorge Zander @ Juliwerk Berlin, Simon Weckert (programming/motor control), Christiane Wohlrab, Clarisse Fougera (Model Performance), SBS Chemnitz, Hanan Tal & team of Rainbow Unicorn