Mai 16, 05:14 by Ivonne Dippmann
Landmarks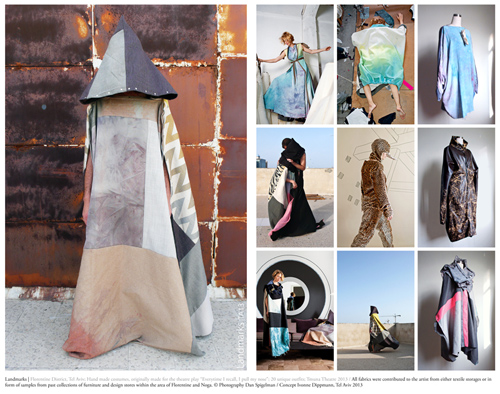 Florentine District, Tel Aviv
Hand made costumes, originally made for the theatre play "Everytime I recall, I pull my nose"; 20 unique outfits; Tmuna Theatre 2013.
All fabrics were contributed to the artist from either textile storages or in form of samples from past collections of furniture and design stores within the area of Florentine and Noga.
Each piece is one of a kind, wash and iron inside out
This line was partially published in the artist book "My Hostilities Are Distributed In A Justified Way" (dt.: Meine Feindseligkeiten Sind Gerechtfertigt Verteilt) at the publishing house Revolver Berlin, 2013.
The entire line can be seen soon HERE.

"Tiger Suit" / Studio ASNABY, May 26th Tel Aviv


© Photography Dan Spigelman / Concept Ivonne Dippmann, Tel Aviv 2013

C – print, Edition of 5 / each motive
90 cm x 60 cm
2013
Thank you: Zohar Gottesmann (sculpture), Eli Lior, Chaim Gavish, Ofer Shahar, Graffiti / Nissim, Niso / Ueli Etter, ASNABY
Special thanks to Nissim / Graffiti and Eli Lior for the kind contribution to this project.

03/13 Solo A&W#2 nichtsalsgespenser 06/13 Mural Mindspace Tel Aviv