Mär 19, 10:00 by Ivonne Dippmann
Ivonne Dippmann WV 2019 200 – 234
thekidswantcommunism – an art project produced in Chemnitz and Tel Aviv by FriedrichDippmann
SarahYotam, edition of twelve beanies, one size, one of a kind, 65 Euro. This colour version is not available as sweater.
FriedrichDippmann is a Berlin-based collaborative between two artists – Agnes Friedrich and Ivonne Dippmann. Starting off with a fashion- and textile feature on Dippmanns ongoing artbook-production Liebeslied Chemnitz – Tel Aviv in 2016, FriedrichDippmann initiated the textile-based project thekidswantcommunism. Its core and theme have been inspired by a conference on communism at CCA, Tel Aviv as part of the exhibition The Kids Want Communism at MoBY: Museums of Bat Yam curated by Joshua Simon.
'Love is a way of being. Presence, observation and approval are the key components of love.'
— A. Pakosz, #liebesliedtlvc #thekidswantcommunism
Within the process of Liebeslied Chemnitz – Tel Aviv, FriedrichDippmann launched a textile collaboration that created a dialogue between Tel Aviv and Chemnitz. Based on The Kids Want Communism at MoBY Museums and the iconography of the Karl Marx bust in Chemnitz we created various patterns, limited to a four colour system that were translated into knitwear technology. Together with the professorship of textile technologies at TU Chemnitz and maximo-Strickmoden we designed and manufactured a first series of twelve individual knitted sweaters and a limited beanie edition.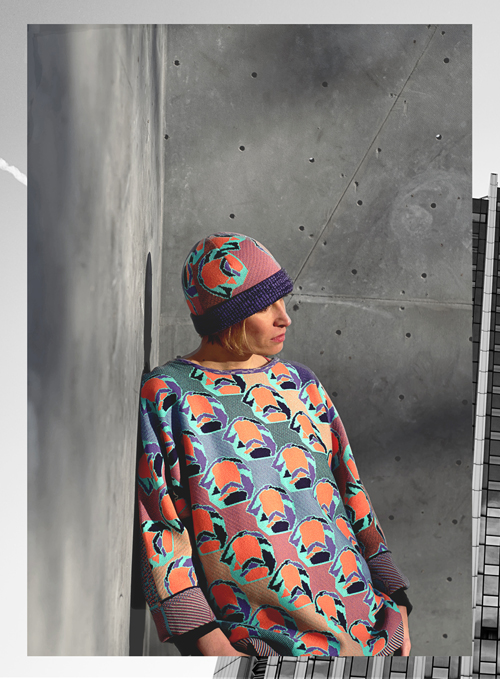 Beanie and sweater YaelBenjamin, low-neck and high-neck, unisex, wearable inside-out, © Tomaso Baldessarini, Naumannpark Berlin 2019
We wish for each item to find their proper owner and partner in crime. All interviews and images produced in Tel Aviv in autumn 2017 will be published as part of Liebeslied Chemnitz – Tel Aviv this year. The process of both projects is documented under #liebesliedtlvc #lltlvc or #thekidswantcommunism #tkwc. (The release of the publication has been delayed several times due to the enormous work involved in production and editing.)
Beanie and sweater SarahYotam, unisex, one size, low-neck sweater / poncho by FriedrichDippmann, one of a kind, Berlin 2018
We'd like to say thank you to everyone who has been involved and supported this project, especially to our partners, models and Joshua Simon who invited this project as part of the closing event of The Kids Want Communism at MoBY Museums in November 2017. There we presented the first edition as performance piece.
For more details and orders, please visit: www.friedrichdippmann.com. Follow us on Insta or Facebook to stay posted about upcoming projects and some behind-the-scenes in Tel Aviv and Chemnitz.
© Photography: Studio Ivonne Dippmann, Tomaso Baldessarini & FriedrichDippmann